GLOBAL TRUMPETS FESTIVAL
25.09 - 30.09.2021
We are thrilled to announce that the festival has been a great success.
Big thanks to all the amazing guest-artists and participants.

About the 
Global Trumpets Festival
Every day, a human being moves twelve cubic meters of air. Through respiration. In some 20,000 breaths. How would it be to send this amount of air around the world? And not silently, as we know it from respiration, but as a sound? Could this sound be translated into the many different languages of the world, and could it be used to spread a musical and social message?
The idea of a trumpet sound that spans the globe underlies the "Global Breath" project, initiated by Dutch trumpeter Marco Blaauw: the starting point is an international research project that offers insights into the traditions, customs, and sounds of the trumpet in different countries and cultures. 
Trumpet pioneers from all over the world were interviewed about their perception of sound, their social, geographical, and political environment, as well as about their special playing techniques and musical genres John Wallace, Mazen Kerbaj, Rajesh Mehta, Bruce Dickey, Wadada Leo Smith, Peter Evans, Taylor Ho Bynum, Djallu Guruwiwi und Laura Vukobratovič. The interviews with musicians from Germany, Australia, England, Italy, Scotland, Serbia, and the United States brought together a wealth of valuable knowledge and experience. These experiences will be shared and expanded upon at an international, decentralized festival event.
It is here that the various players will come together and present the trumpet and other lip-reed instruments in all their varieties and timbres. Together with trumpet professor Laura Vukobratović, Marco Blaauw has assembled a varied and sometimes extraordinarily unusual program of workshops, lectures, talks, and concerts. 
The aim is to exchange music, ideas, and artistic approaches, creating new networks and the mutual transfer of knowledge; between musicians themselves as well as between spectators, workshop participants, and students. 
A particular focus will be placed on the continuing and undeniable shortage of women in the professional brass landscape and – in connection with this – on the discussion of concrete measures to improve the situation. The proportion in German orchestras of just four percent female trumpet players confirms the long-overdue need for action.
The festival offers a wide range of opportunities for fans, from early music through jazz to new music and cross-genre styles. This exchange is made possible both in meetings on-site and in a digital platform – in the spirit of ecological sustainability and resource conservation. In this way, ideas developed and spun together can combine to form a colorful trumpet sound that continuously moves around the earth and rings into the future.
What is the Global Trumpets Festival?
Global Trumpets Festival is an international, hybrid festival with concerts, workshops and lectures with many high-profile guests.
Where and when will the festival take place?
Global Trumpets Festival will take place both digitally and analogue – i.e. on site.
The festival will take place from September 25 – 30, 2021 with events and concerts on site at the Folkwang University of the Arts in Essen. Through various platforms, digital, interactive participation is equally possible! 
In the morning it will start with masterclasses and workshops, followed by lectures, as well as roundtables and in the evening the concerts will take place.
Who is running the festival and which artists can I look forward to?
The artistic direction of the festival is provided by Laura Vukobratović and Marco Blaauw.
You can look forward to exciting concerts and lectures, as well as courses by Bruce Dickey, Damir Bačikin, John Wallace, Mazen Kerbaj, Mireia Farrés, Peter Evans, Rajesh Mehta, Reinhold Friedrich, Taylor Ho Bynum, Wadada Leo Smith and others!
Who is the festival aimed at and how can I register?
Masterclasses and workshops are mainly aimed at students and working musicians.
Everyone is welcome to attend lectures, discussions, roundtables, and concerts!
Workshops & Masterclasses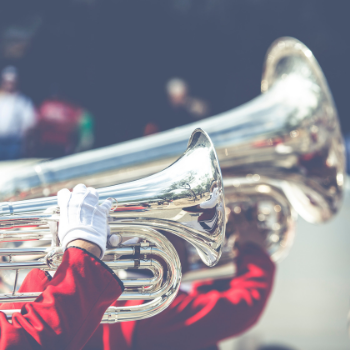 Top Brass Band is now Girls Allowed!In January 2013, the Brighouse and Rastrick Brass Band, recruited its first female player in 137 years of its...
There are no upcoming events at this time.